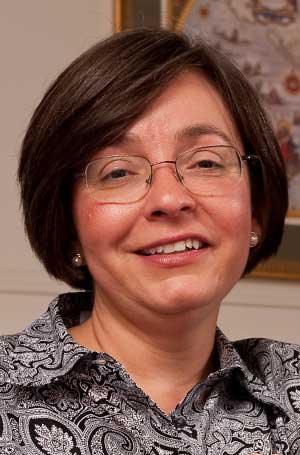 María M. Portuondo
Associate Professor and Chair
Gilman 374
410-516-7503
mportuondo@jhu.edu

The focus of my historical research is early modern science and technology in Europe and Latin America. Although my study of early modern science falls within the Western European context, by focusing on Spain and the Americas my work takes me into subject areas that have until recently received little attention within the traditional narrative of early modern science and of the Scientific Revolution. To date I believe my research has contributed towards a broader understanding of scientific practices that took place during the 16th century in the Spanish Empire. But my research is not limited to an audience solely interested in Spain and its sphere of influence. My aim has always been to place specific accounts within the broader context of the history of science and technology. Therefore, my writing and teaching also explore a number of general themes in the history of science: epistemological issues of knowledge production, methodological aspects of scientific practice, intellectual history, the role of science in an imperial context, and science in the context of territorial exploration.
In my book, Secret Science: Spanish Cosmography and the New World (Chicago, 2009), I studied the flow of geographical knowledge from the New World to Spain and how Spanish cosmographers sought to integrate the New World into the conceptual framework of Renaissance science. The book shows how they transformed traditional ways of explaining nature and developed new and sometimes innovative ways of dealing with the flood of new knowledge arriving from overseas.
I continue exploring science in 16th-century Spain in my current research, but now my focus is no longer on the pragmatic cosmographical practitioners, but instead on natural philosophers, and in particular the work of biblical scholar and exegete Benito Arias Montano (1527–1598). Or to put it in a nutshell, I have shifted from "doers" to "thinkers." Arias Montano is a fascinating example of natural philosophers throughout Europe who sought alternatives to the increasingly discredited system of Thomist Aristotelianism. A close reading of his works suggest that Arias Montano was an original and even radical thinker who was well aware of scientific debates of his time. His case is made even more intriguing given Arias Montano's deep roots in the orthodox Catholicism in the Spain of Philip II. He has, however, never been seriously considered by the historiography of science.
My background as an electrical engineer continues to drive my interest in the history of technology, a passion I indulge by teaching undergraduate and graduate courses on the topic. Recent offering have included: Science and Technology in Latin America (1492–Present), Technological Transformations, and Advance Readings in the History of Technology.
Books
Secret Science: Spanish Cosmography and the New World (University of Chicago Press, 2009). Spanish edition under contract with the publishing house lberoamericana/Vervuert.
Winner of the 2011 John E. Fagg Prize from the American Historical Association recognizing a book on the history of Spain, Latin America or Portugal.
Articles and Book Chapters
"The Study of Nature, Philosophy and the Royal Library of San Lorenzo of the Escorial." Renaissance Quarterly. 64.3 (2010): 1106-1150.
"Astronomical Flashpoint: José de Sigüenza, Garcia de Céspedes, and the Observatory of the Escorial." Colorado. Review of Hispanic Studies 7(2009):101-17.
"Lunar Eclipses, Longitude and the New World." Journal of the History of Astronomy 40 (2009):249-76.
"Constructing a Narrative: the History of Science and Technology in Latin America." History Compass 7 (2009). Published Online: Jan 27 2009 11:26AM, DOI: 10.1111/j.1478-0542.2008.00579.x
"The Seventh Desk: Mathematical Instruments, Philosophical Artifacts and the Secrets of Nature." In Lastanosa. Art and Science in the Baroque, edited by Mar Rey Bueno and Miguel López Pérez, 101-126. Cambridge Scholars Publishing, 2009.
"Cosmography at the Casa, Consejo and Corte during the Century of Discovery." In Science in the Spanish and Portuguese Empires, edited by Daniela Bleichmar, Kristin Huffine, and Kevin Sheehan, 57-77. Stanford University Press, 2008.
"La astrología y los fenómenos naturales." In, Bibliotheca Mágica. Catálogo de exposición en la Biblioteca Histórica Marqués de Valdecilla, 17-23. Universidad Complutense de Madrid, 2007
"Spanish Cosmography and the New World Crisis." In, Beyond the Black Legend: Spain and the Scientific Revolution / Mas allá de la Leyenda Negra: España y la Revolución Científica, edited by William Eamon and Victor Navarro Brotóns, 383-97. Valencia: Soler, 2007.
Review of Una obra maestra: El acueducto Albear de La Habana, by Rolando García Blanco. Technology and Culture 46, no. 1 (2005): 203-205.
"Plantation Factories: Science and Technology in Late-Eighteenth-Century Cuba." Technology and Culture 44, no. 2 (2003): 231-257.